Popular CNC Router Projects
  With the development of CNC router machine industry getting better and better, more and more people have begun to work in the CNC router industry. The CNC router machine is now not only warmly welcomed in the machinery industry, but also in the field of personal hobbies. .Because the current CNC router machine is not particularly difficult to operate, the small CNC router machine is very easy to operate. And compared with the previous manual engraving, the CNC router project has the advantages of higher production quality, higher work efficiency, and labor cost savings. So do you know what a CNC milling machine project is, or have you done your own CNC milling machine project? Are you interested in CNC router projects? Have you seen any amazing or profitable CNC router projects? Next, we will start to introduce you the relevant information of CNC router projects.
What is the CNC Router Projects
As the name implies, CNC router projects refer to projects or products processed and manufactured by CNC routers. There are many CNC router machine can complete various CNC router projects, such as stone CNC router machine, wood CNC router machine, metal CNC router machine, hobby CNC router machine, desktop CNC router machine, CNC plasma cutting machine and CNC laser cutting machine, etc.
The CNC router projects that these CNC router machines are good at are also different. For example, a small CNC router machine can be used to engrave and cut signs, logos, letters, patterns, etc. The large CNC wood router machine can be used to process wooden furniture, cabinets, building boards, large advertising signs and other CNC router projects. The stone CNC router machine is mainly used to complete CNC router projects such as tombstones, marble slabs, and stone furniture. Therefore, various products produced by CNC router machine have been widely used in most areas of the market.
CNC Milling Machine Project Classification
As mentioned above, different CNC routers can develop corresponding CNC router projects. In addition, we can also classify CNC milling machine projects according to the processing materials used in each project.
1.Wood CNC Router Projects:
Wood CNC router projects are now the most widely used projects. The wood CNC router can process a variety of wood, such as the maple, mahogany, plywood, wood, etc. The products manufactured in the wooden CNC engraving machine project mainly include doors, Wooden furniture such as cabinets, sofas, tables and chairs, crafts, artworks, models, toys, decorations, musical instruments, etc. Wooden CNC engraving machine projects are mainly carried out by CNC wooden engraving machines, such as wooden furniture engraving machines, amateur CNC engraving machines and wood milling machines. You can also add some advanced configurations to complete complex wood CNC projects according to actual needs, such as separate spindles and rotating shafts and other advanced accessories.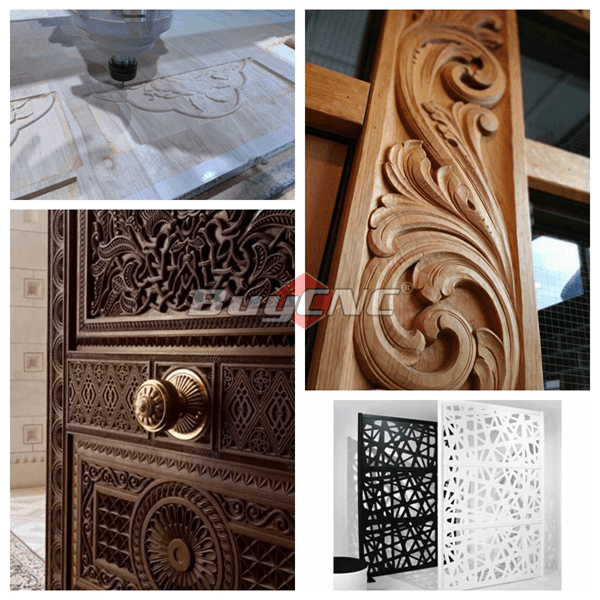 As a professional woodworking CNC router with vacuum table machine, this machine body is welded by thick steel pipes, so it is enough strong to process different materials. And it has many advanced kit such as Hiwin linear rails and bearings, Germany precision helical racks on the X and Y axes etc. It is worth mentioning that the powerful CNC vacuum pump of the CNC router for sale machine can vacuum the material within 3 seconds. This greatly improves the work efficiency of woodworking CNC router machine.

2.Stone CNC Router Project
The stone CNC router machine can process a variety of CNC router projects. There are many stone CNC router projects in our daily lives, such as stone sculptures, embossed countertops, marble floors, etc., tombstones, jewelry processing, and stone cutting and carving projects. Since using the stone CNC router machine, processing stone has become easier and easier. It is not like the original stone carving model, which requires manual carving, which results in low work efficiency and unstable product quality. Since having stone CNC router machine, stone CNC router projects have realized the automation and mass production of stone carving products.
The materials that The stone CNC router machine can process mainly include granite, marble, artificial stone, sandstone, crystal, jade, etc. Common processing methods include embossing, lettering, cutting, hollowing, seamless splicing, surface treatment, desktop milling, etc.
This is the latest black single-head CNC stone router machine. It has strong performance and can handle most of the stone. At the same time, the Z axis has been upgraded. This marble engraving machine has a Z axis of 500mm high and with high wall on the two sides of the work table, which can effectively prevent stone debris from flying away. At the same time, you can also choose different worktable sizes.

3.Metal CNC Router Projects
The metal CNC router projects is one of the recent emerging CNC router projects. It mainly involves metal, steel, aluminum and copper and other metal materials. Due to the ductility of metal materials, the metal CNC router has been widely used in more and more fields. For example, metal molds, parts, metal signs, construction accessories, etc. The metal CNC router machine can cut metal materials with high precision and has extremely high production efficiency. Metal CNC engraving machine is suitable for engraving, engraving, milling and drilling of almost all metal materials. Metal CNC engraving machine projects involve jewelry, automobiles, molds, ironware and other industries.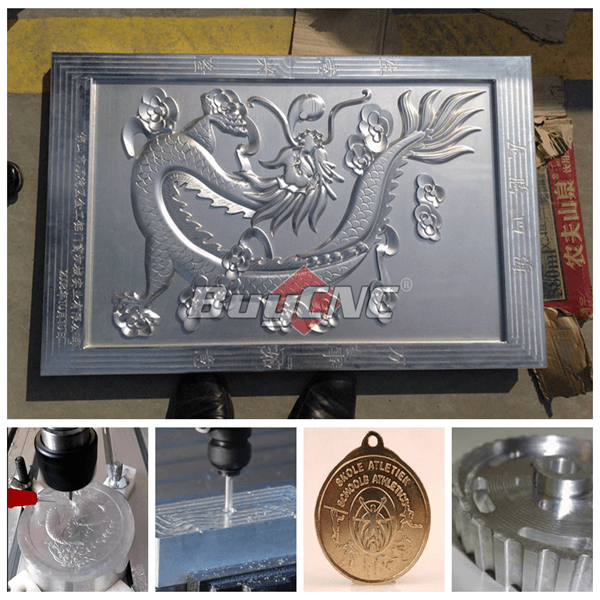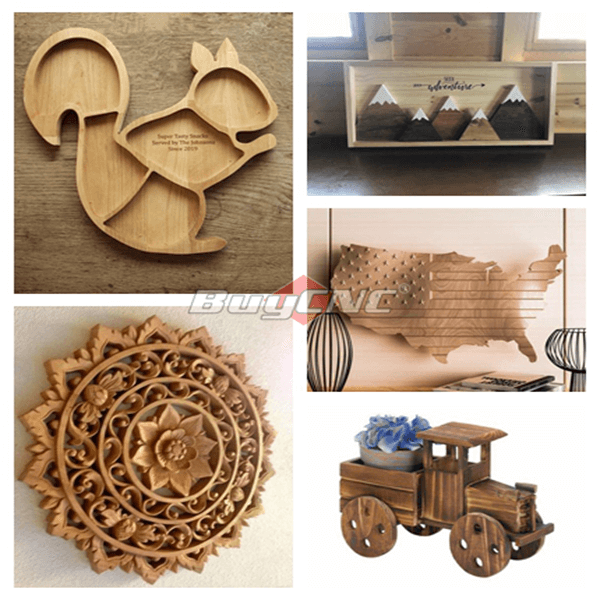 4.Desktop CNC Router Projects
Now the small desktop CNC router machine has been welcomed by more and more people, not only the professional CNC router worker, but also many amateurs have also bought this cheap and affordable desktop CNC router machine. The desktop CNC Router projects include small toy making, small sign making, letters, DIY crafts, cartoon characters, wood carvings, etc. Hobbyists like to use desktop CNC router machine to carve their favorite patterns and characters.
This is the one of the best desktop CNC router machine, the structure of this desktop CNC router machine is iron cast, so it can process soft and hard materials. This desktop CNC router machine can not only be used as a hobby CNC router machine, but also very suitable for working in small shops. It has a small footprint and is easy to move. It is a cost-effective hobby CNC router machine.
Some Popular CNC Router Projects
1. Wooden furniture-Wood CNC Router Projects
Wooden furniture is now the largest project in wood CNC router projects. Wooden furniture includes wooden items such as cabinets and internal shelves to plates such as countertops, shelves, cabinet boxes, tables, etc., and can be completed, and a large number of repetitive manufacturing can be completed. The CNC wood milling cutter used for wooden furniture can realize the digitalization of the processing process, such as lofting, punching, grooving, edge banding and other processes. It significantly improves product quality and work efficiency.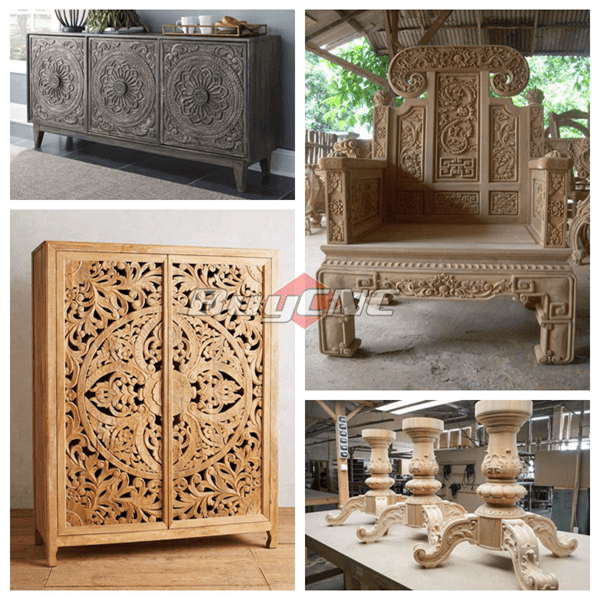 2. CNC Cabinet Nesting Projects-CNC router projects
In recent years, with the rapid development of panel furniture, the market demand for cnc nesting machines is increasing. CNC Nesting Projects including cabinet door making, decorative cabinet making, wall cabinet making, kitchen cabinet making, base cabinet making, corner cabinet making, home cabinet making, wood cabinet making and other customized cabinet making.cabinet doors projects, wardrobe doors, solid wood doors, paint-free doors, solid wood composite doors, and suite doors.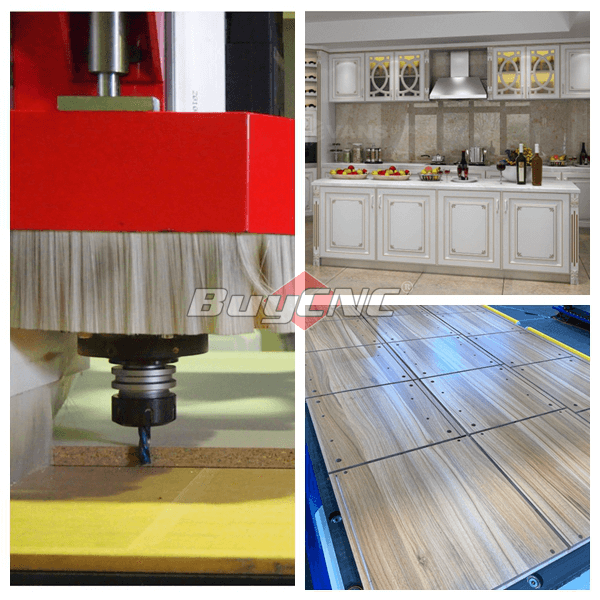 3. Advertising signs-CNC router projects
The advertising industry has now become one of the fields involved in CNC router projects. These very conspicuous advertisements and nameplates are all made by our CNC router machine. Because these signs require many kinds of materials, the materials used in these signs include wood, stone, metal, glass and other materials. These beautiful signs can not only improve the company's image, but also attract more people to understand the advertisement.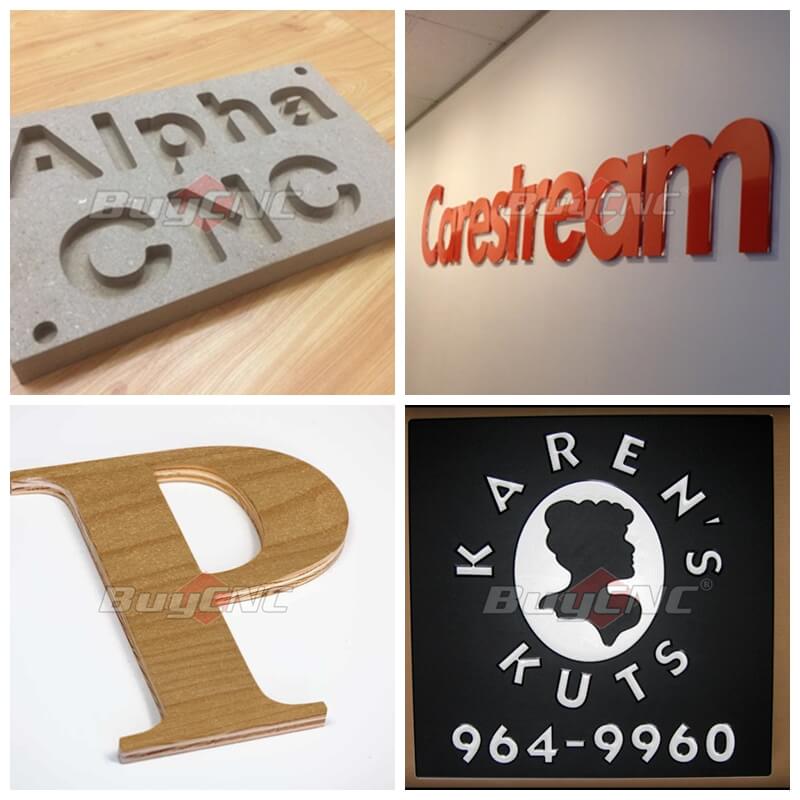 4. Crafts, gifts and artworks-CNC Router Projects
The crafts in the picture above are CNC crafts produced by our real customers. Some of them are just craft lovers, they like to do great things with their hands. Some workshops are engaged in the production of creative gifts, artworks, handicrafts, souvenirs and other profitable CNC projects. Recently, the CNC router project has become more and more popular in conferences, games and travel activities.
More and more medals, certificates, souvenirs and advertising materials have been produced in the CNC milling machine project. Therefore, handicrafts and gift products are one of the profitable CNC projects not to be missed in small factories or workshops.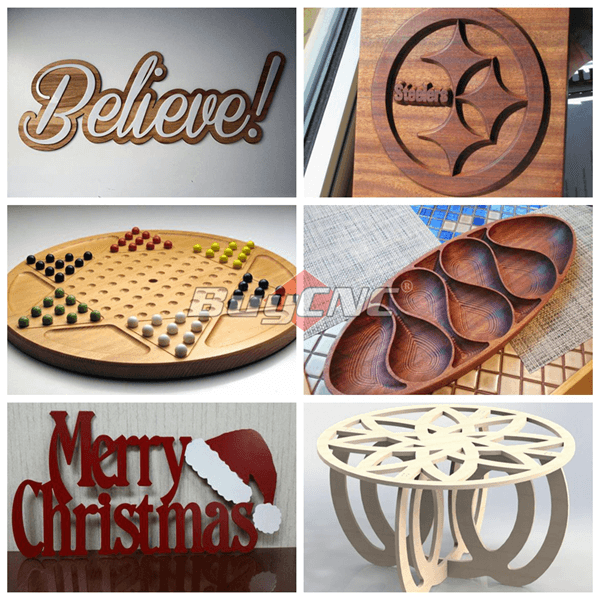 5. Building Decoration Industry – CNC Router Projects
Nowadays, people's requirements for architectural decoration are getting higher and higher, and some people choose custom decoration to beautify their rooms. Therefore, more and more architects choose to use CNC router machine to produce architectural decoration. Through embossing, cutting, carving, 3D carving and other processing methods to process stone, wood, metal and other materials. The decorations manufactured in this way are not only of high quality, but also of high processing efficiency. Now CNC milling machines are used to produce a large number of exquisite molds for building materials (such as gypsum ceilings, tiles, etc.). This in turn will bring more revenue to the enterprise. The CNC milling machine project has been widely adopted in the construction industry.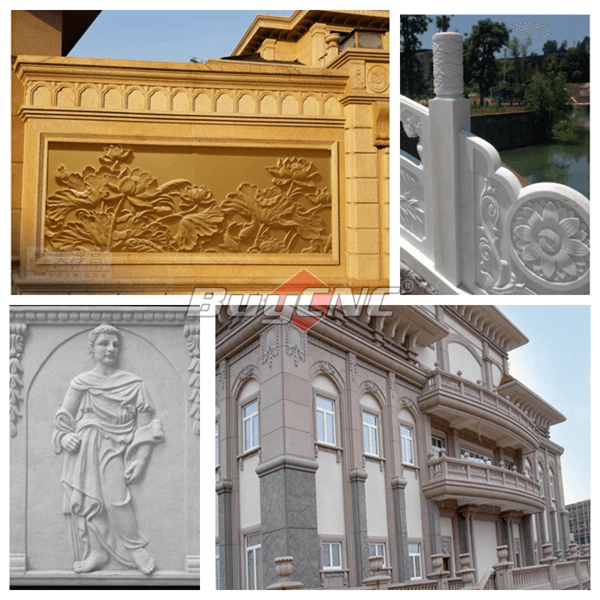 6. Mold manufacturing industry – CNC Router Projects
The mold manufacturing industry is now also a very popular CNC router project, because these molds require extremely fine engraving. If you use manual engraving, errors will always be unavoidable. Even if the error is small, it will lead to parts produced through the mold. Cannot be used normally. However, if we use CNC router machine for engraving, because it is engraved by a computer-controlled machine, the precision and quality of the mold it produces are very high, which will be very conducive to the mass production of molds.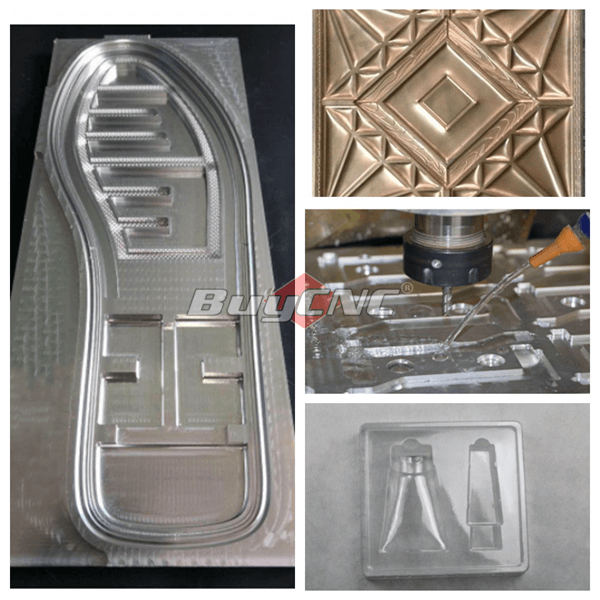 Why CNC Router Projects are becoming more and more popular
1.CNC milling machine can improve the work efficiency of the factory, and can complete high-quality batch work. High precision and high automation are the main advantages of CNC routers. This is expected to increase the demand for CNC routers in the next few years.
2.CNC routers reduce errors, waste, and time to complete the product, and are expected to drive market growth in the next few years.
3.It is expected that the growing demand for wood-frame buildings and the need to adopt advanced machinery to save time in various construction applications (such as cutting, milling and drilling) will drive the CNC milling machine market during the forecast period.
4.It is expected that the use of CNC routers in metal processing and woodworking applications will increase, thereby driving the growth of the global market. In addition, it is expected that increasing the extraction of wood in construction applications will drive the growth of the global CNC milling machine market.
5.The increasing development and adoption of CNC milling machines for woodworking applications is the main factor encouraging end users to switch from standard machines to CNC milling machines to improve product finish and increase operational efficiency. It is estimated that this will promote the global CNC router market.
6.The CNC router is a computer-controlled device; skilled labor is required to use or operate it. This increases labor costs, which adversely affects the demand for CNC routers. Therefore, the high cost of CNC routers is expected to hinder the market.
Conclusion Of CNC Router Projects
BuyCNC provides a variety of CNC router machines, whether you want to engage in wood CNC router projects, stone CNC router projects and metal CNC router projects or other CNC router projects. We can provide you with the most cost-effective CNC router machine, we We will recommend CNC router machine for you according to your needs. Of course, you can also tell us your CNC router projects ideas or plans, and our professional engineers will provide you with professional suggestions to help you choose the most suitable CNC router machine.