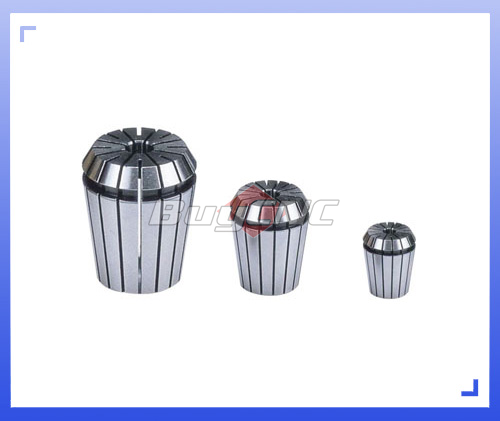 The collet is a drilling and milling chuck mounted on a drilling machine, a milling, and CNC router machine. Its function is to clamp the drill or milling cutter. It is a cylindrical fixture used to confine drills or milling cutters on a milling machine. It is a kind of fixing device used to fix and strengthen the parts that need to be modified. At present, the ER and C  collet are the most used. The ER collet is used more frequently because of its stable performance, high precision , simple loading and unloading, and low price. There are many types of collet, and its characteristic is that the radial runout is only half of the C-type collet, which greatly improves the accuracy guarantee of the product in the processing process.
What is a collet way to use?
1. Put the collet into the pressure cap and gently rotate the circlip. When the eccentric part of the pressure cap is recessed into the circlip groove, push the circlip evenly in the direction of the arrow to fit it into the pressure cap.
2. Install the circlip together with the pressure cap on the collet body or the spindle of the machine tool, clean the cylindrical shank of the tool and put it into the clamping hole, use a wrench to evenly tighten the pressure cap until the tool is clamped firmly use. (Note: Do not tighten the pressure cap when the tool is not installed, so as not to damage the circlip)
3. When changing the tool, use a wrench to loosen the pressure cap to bring out the collet and tool, remove the tool, push the circlip in the direction of the arrow to make it exit, and then replace the circlip with other apertures as needed.
What is a collet detailed specifications?
ER collets are roughly divided into the following eight blocks according to their specifications (metric system):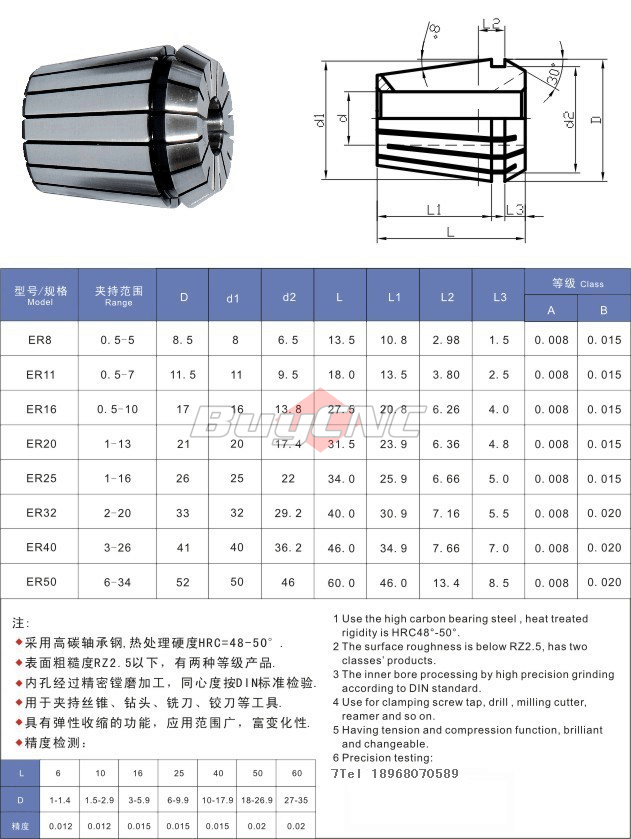 What is a collect clamping range?
ER8 collet clamping range: Φ1, 1.5, 2, 2.5, 3, 3.5, 4, 4.5, 5
ER11 collet clamping range: Φ1, 1.5, 2, 2.5, 3, 3.5, 4, 4.5, 5, 5.5, 6, 6.5, 7
ER16 collet clamping range: Φ1, 1.5, 2, 2.5, 3, 3.5, 4, 4.5, 5, 5.5, 6, 6.5, 7, 7.5, 8, 8.5, 9, 9.5, 10
ER20 collet clamping range:
 Φ1, 1.5, 2, 2.5, 3, 3.5, 4, 4.5, 5, 5.5, 6, 6.5, 7, 7.5, 8, 8.5, 9, 9.5, 10, 10.5, 11, 11.5, 12, 12.5, 13
ER25 collet clamping range: 
Φ1, 1.5, 2, 2.5, 3, 3.5, 4, 4.5, 5, 5.5, 6, 6.5, 7, 7.5, 8, 8.5, 9, 9.5, 10, 10.5, 11, 11.5, 12, 12.5, 13, 13.5, 14, 14.5, 15, 15.5, 16, 16.5, 17
ER32 collet clamping range: 
Φ2, 2.5, 3, 3.5, 4, 4.5, 5, 5.5, 6, 6.5, 7, 7.5, 8, 8.5, 9, 9.5, 10, 10.5, 11, 11.5, 12, 12.5, 13, 13.5, 14, 14.5, 15, 15.5, 16, 16.5, 17, 17.5, 18, 18.5, 19, 19.5, 20, 21, 22
ER40 high precision collet clamping range:
 Φ3, 3.5, 4, 4.5, 5, 5.5, 6, 6.5, 7, 7.5, 8, 8.5, 9, 9.5, 10, 10.5, 11, 11.5, 12, 12.5, 13 , 13.5, 14, 14.5, 15, 15.5, 16, 16.5, 17, 17.5, 18, 18.5, 19, 19.5, 20, 21, 22, 22.5, 23, 23.5, 24, 24.5, 25, 25.5, 26.27.28.29 .30
ER50 collet clamping range:
Φ6.8.10.12.14.16.16.18.20.22.24.25.26.28.30.32.34.36